Key figures
Below is a numbers-based overview of CRPN programs.
Key figures for 2018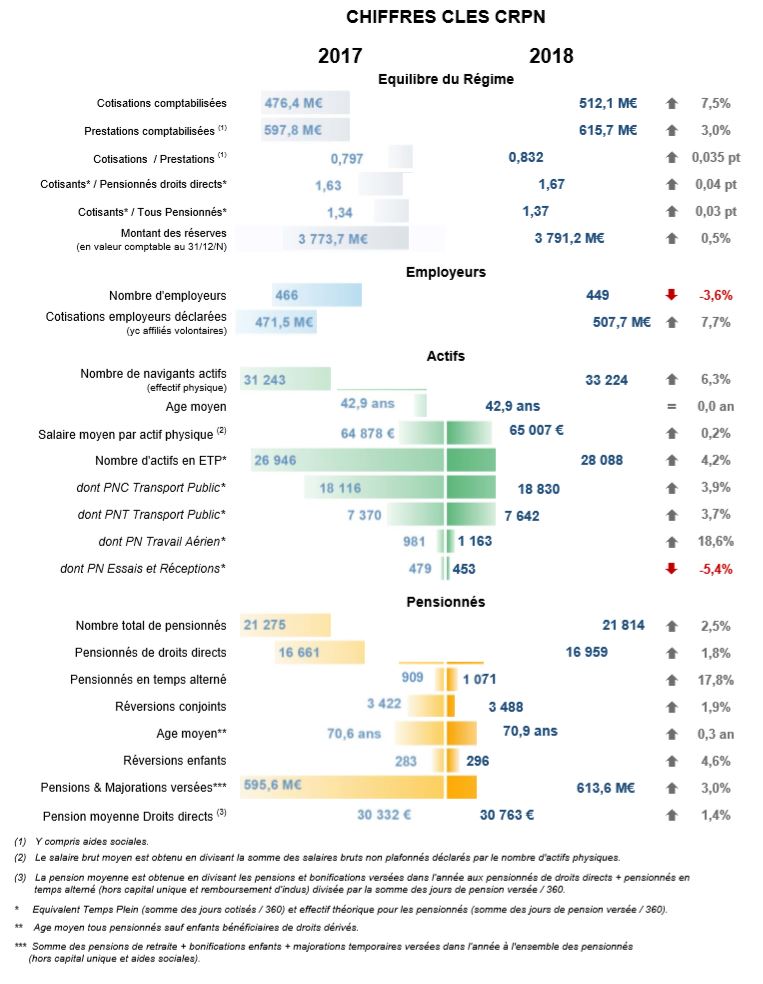 Trends and comments on the key figures
2018 saw major gains in staff numbers, resulting in a better contributor/ pensioner ratio, with an even bigger growth in contributions. 2019 will see all of these indicators continue to rise considerably.
Please be aware that the average pension that appears in the key figures often rises more slowly than the pension variation index ("IVP"). This is due to a structural effect, as the proportion of commercial air crew members is increasing. As an example, between 2012 and 2018, the number of retired commercial air crew members increased by 20% while the number of retired technical air crew members only went up by 8.4%.
CRPN scheme statistics for 2018
Below you will find the CRPN scheme's statistical data as they appear in the summary activity report for 2018.
(French)

Calculation components for 2022
Parameters
Indices and ceiling for 2022
| | | |
| --- | --- | --- |
| Corrected Wage Variation Index | Pension Variation Index | France's monthly Social Security ceiling |
| 34,8719 | 40,2068 | 3,428€ |
The Corrected Wage Variation Index is used to calculate hypothetical entitlements up to the date of a claim (included). Since January 1, 2013, this index is updated at the same time and rate as the Pension Variation Index, on the basis of the INSEE consumer price index.
CRPN contribution rates and salary ceilings
Funds
Contribution rates
Ceiling
Value of the yearly ceiling in 2021
Retirement pension fund
23,33%
8 PSS (*)
329,088€
Insurance fund
0.10%
Insurance fund
0.68%
1 PSS (*)
41,136€
(*) times France's social security ceiling (Plafond Sécurité Sociale)
Benefits for 2022
| | |
| --- | --- |
| Basic top-up | 8,227€ |
| Supplement | 1,234€ |
Maximum yearly amounts for a claim in 2021
Death insurance
| | | |
| --- | --- | --- |
| Minimum | Maximum | Top-up per dependent child |
| 123,408€ | 493,632€ | 41,136€ |